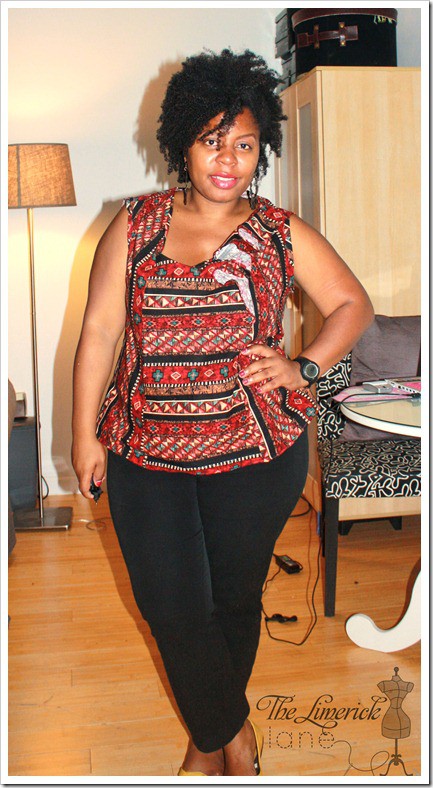 I finally completed another sewing project.  Unfortunately when I tried to take the pictures my battery died on my camera so this is the only semi-decent shop I got.  Here is a review of the pattern that I used.
Simplicity 1806 Pattern Review
Pattern Description: I did view B.
Pattern Sizing: Size 18 graded out in the hips. But the size is a too big.  Next time I will go down in the size. Hey…you live and you learn.
Did it look like the photo/drawing on the pattern envelope once you were done sewing with it? Were the instructions easy to follow? What did you particularly like or dislike about the pattern? Yes, it looked like the photo. The instructions were pretty easy until I came to the neck facing part. I hated the neck facings. I liked that it was easy and quick to sew. Sometimes I can get a little overwhelmed if I don't see a finish near. So this took me about 3 days to complete.  I would put it away and take breaks. But it would have only taken my a day to complete if I didn't stop.
Fabric Used: I found this pretty Aztec print fabric from B&J Fabrics. (My favorite fabric store in the garment district. It's clean, organized and the sales people are excellent.)
Pattern alterations or any design changes you made: I eliminated the neck facing and did a neck binding instead.
Would you sew it again? Would you recommend it to others? I will be sewing it again in a smaller size. I would recommend it to others that are beginning to sew. It's a great project that you can learn a few techniques.
Conclusion: It was a fun project.