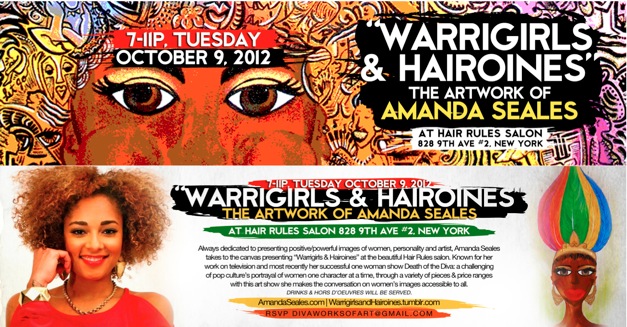 i
TV Personality, Rapper (remember she replaced the rapper chick in Floetry for a hot minute) and artist, Amanda Seales (formerly known as Amanda Diva) will be showcasing her artwork at "Warrigirls & Hairoines".
Where: Hair Rules Salon (828 9th Ave #2, NYC)
Date: Tuesday, October 9, 2012.
Time: 7pm to 11pm
RSVP: divaworksofart@gmail.com
I love going to events at Hair Rules. They know how to throw a swanky party.  I'm positive there will be drinks and bites to eat.  Bring your money too because I'm sure you will be able to purchase hair products and Amanda's artwork.  Don't wait to RSVP because their events fill up very quickly. You can check out her artwork at Diva Works of Art.