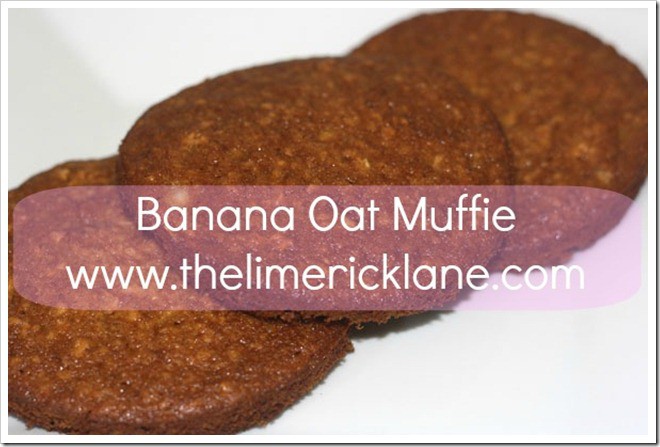 I'm always trying to find something to eat for breakfast that is quick and easy to grab when I don't have time to cook a meal.  Yesterday I baked Banana Oat Muffin Tops or Muffies as I like to call them.  It's something that I can politely eat on the subway when I'm in a hurry in the morning or throw it in my bag to snack on later.  I can also freeze them for later.  I like to leave a few out and stick the rest in the freezer. Otherwise I will gobble them all up because they are so tasty.  But I have to be careful because they are about 340 calories each.  It's packed with calories but it's still part of my clean eating regimen. I personally like muffin tops but you can always use this recipe for muffins.

Banana Oat Muffin Tops
Ingredients
1 cup rolled oats
1 cup all-purpose flour
1 teaspoon baking soda
1 teaspoon baking powder
1/4 teaspoon ground cinnamon
1/2 teaspoon salt
1/2 cup butter, softened
1 cup white sugar
2 eggs
1 cup mashed ripe banana
1 teaspoon vanilla extract
1/2 cup sour cream
Directions
Preheat oven to 350 degrees F (175 degrees C). Grease 12 muffin cups or line with paper muffin liners.
Place 1 cup rolled oats in a food processor and process until ground. In a large bowl, combine ground oats with flour, baking powder, baking soda, cinnamon and salt.
In a separate bowl, cream together the butter and sugar until light and fluffy. Beat in the eggs one at a time, then stir in the banana and vanilla. Stir in sour cream. Mix oat/flour mixture into egg mixture. Spoon batter into prepared muffin pans.
Bake in preheated oven for 25 to 30 minutes, until golden brown and a toothpick inserted into a muffin comes out clean.
If you want, you can add nuts or chocolate chips too. Be creative!