Yesterday, a coworker complimented me on my outfit and said that I always have great style.  That made me think. Why don't I ever do any outfit posts on here? Partly it's because I'm not confident in my new size (I've gained some weight, but I'm working on my Operation J-Hud to lose it) and the fact that I don't have anyone to take my daily outfit pictures. It seems that all of these fashion bloggers have significant others that take daily photos of them. Unfortunately, I do not. (That's a whole other story)
Although I don't normally do outfit posts on this blog, I have decided to try and incorporate more personal style pictures on here.  So today I took some pictures this morning. I'm not trying to reinvent the fashion wheel, but I think I'm pretty good at putting some fashionable outfits together.  I was also able to pull my hair back into a bun. If you have thick natural hair like mine, then you know pulling your hair back can take some mighty strength.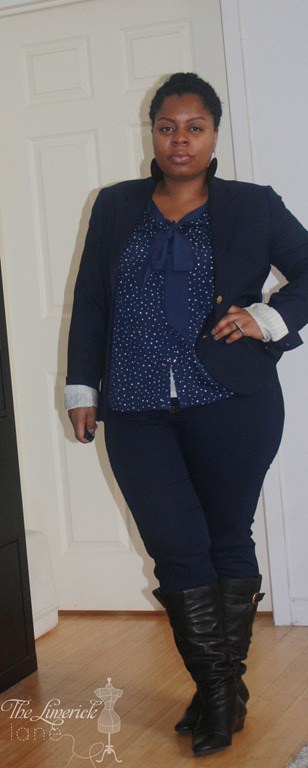 J.Crew Blazer, Jason Wu for Target Blouse, Gap Denim, Steve Madden Boots & Vintage Ring from Brooklyn Bleu.
Side Note: Although I'm great at shooting others, I need to work on my photog skills when it comes to shooting myself!